中国在中东国家投资与贸易剧增Chinese Investment and trade with Middle East rising
Egypt's President Abdel Fattah el-Sisi, Qatari Emir Tamim bin Hamad, and crown princes Mohammad bin Salman (Saudi Arabia) and Mohammed Bin Zayed (United Arab Emirates) have all visited China and signed a series of big contracts.
China has become a major trading partner with Middle Eastern energy exporters, which is not surprising given China's status as the world's largest energy consumer and importer due to its economy expansion.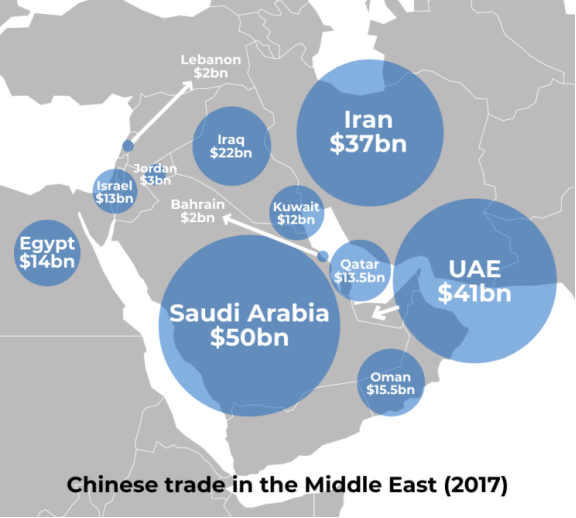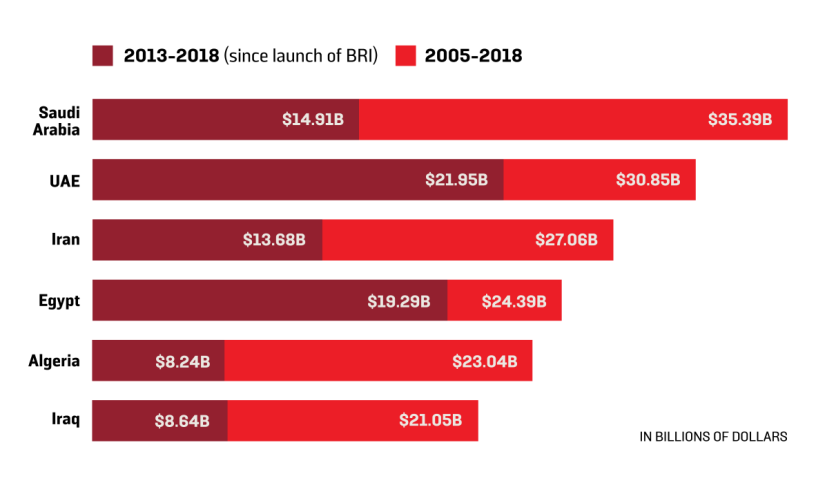 Increased trade has been accompanied by a growth in Chinese financial institutions throughout the region. Dubai is the beginning, with Middle East largest Chinese community of 250,000 and more than 4000 Chinese companies.
Dubai hosts branches of China's four largest banks as well as a currency swap center that moved nearly $7 billion worth of transactions in Chinese yuan in 2018. While less well-represented, other Middle Eastern cities are drawing in Chinese institutions and banks to facilitate the tremendous trade growth.
American Enterprise Institute's China Global Investment Tracker shows over $123 billion worth of BRI-related investment into the region since 2013. In 2016, China became the largest extra-regional source of FDI in the Middle East and since then has only gotten bigger.
In the summer of 2018, China announced another round of investment and loans totaling $23 billion, accompanied by the rollout of a new initiative: the "industrial park-port interconnection, two-wheel and two-wing approach." This identified the UAE's Khalifa Port, Oman's Duqm, Saudi Arabia's Jizan, East Africa's Djibouti, and Egypt's Port Said and Ain Sokhna as the homes of key projects that China will develop in building the BRI in the Middle East.