中国投资欧洲国家China Investment In Europe increase 50 times
China and Europe have long been steady trading partners. What has changed in the last decade is China's increased footprint in European investment. Chinese foreign direct investment (FDI) in the European Union (EU) has increased by almost 50 times in only eight years, from less than $840 million in 2008 to a record high of $42 billion (35 billion euro) in 2016, according to Rhodium Group statistics. The current situation is reflective of a paradigm shift in Sino-European relations, which needs to be carefully assessed for its economic and geopolitical impact on Europe.
Total Chinese investment in Europe, including mergers and acquisitions (M&A) and green-field investments, now amounts to $348 billion , and China has acquired more than 350 European companies over the past 10 years.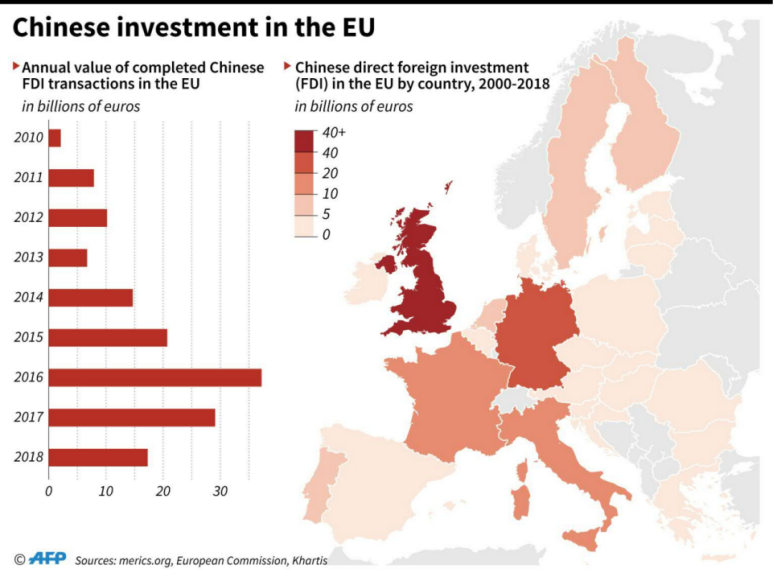 In Western Europe, Chinese investors target Europe's strategic assets and research and development networks, with the largest and wealthiest European countries attracting the greatest investment. The United Kingdom ($70 billion in Chinese FDI), Italy ($31 billion), Germany ($20 billion), and France ($13 billion) accounted for 75 percent of Chinese total investment in the EU market in 2017.
In Southern Europe, Chinese companies have leveraged the economic crisis and its consequences to focus on large-scale privatization process and post-crisis restructuring. In Italy, Chinese FDI has soared since 2014, approaching 5 billion euros ($5.7 billion), which corresponds to around 10 percent of total Chinese investment in the European stock market. In 2015, China's acquisition of Pirelli made Italy the top destination of Chinese FDI in Europe, giving China access to one of the most important car tire manufacturers globally and an entry into the replacement market — a segment, until recently, dominated by the major European and Japanese brands.