China Belarus Industrial Park
The China–Belarus Great Stone Industrial Park is a special economic zone in Belarus, established under the intergovernmental agreement between the People's Republic of China and the Republic of Belarus.
The Park is located 25 km from Minsk, the capital of the Republic of Belarus, in a unique natural complex and in close proximity to the international airport, railway lines, and the Berlin-Moscow transnational highway. In the Park territory construction is planned for production and living areas, offices and shopping malls, financial services, and research centers.Park tax benefits, free customs regime within the countries of the Eurasian Economic Union (EAEU), including Russia and Kazakhstan, open market opportunities for 183 million of customers.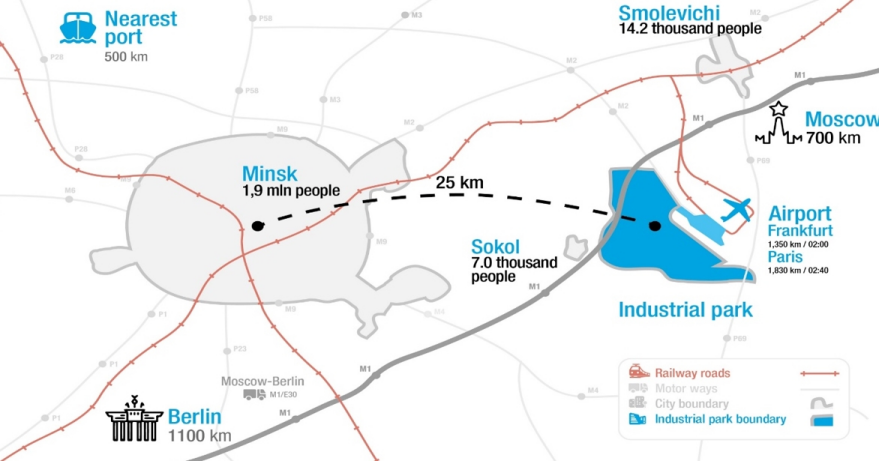 From its start to end of 2019, Investment in the China-Belarus industrial park Great Stone has exceeded $520 million over the period of the implementation of the project
The estimated amount of direct investment to the project is $1.5 billion. As China Embassy forecasted, it may be increased up to $5.5 billion. In the long run, the project might accumulate up to $30 billion investment. According to Alexander Lukashenko, the park will help to increase export potential for up to $50 billion annually. The development of the Park is also focused on creating financing opportunities. In July 2019 the "club of investors" estimated for 20 million USD has been created. Innovative start-ups or small business companies may be financed through special project selection program "Iskra"