China Investment in Pacific Island countries
Third China-Pacific Island Countries Economic Development and Cooperation Forum opened in Samoa October 2019. Sub-forums includes trade, agriculture, forestry and fishery, tourism and infrastructure investment, as well as environmental protection and climate change.
In 2018, trade between China and the eight island countries with which it had diplomatic ties topped 4.3 billion U.S. dollars, and China's direct investment in the Pacific island countries reached over 4.5 billion dollars, up from about 900 million in 2013, which helped create about 15,000 jobs in those countries.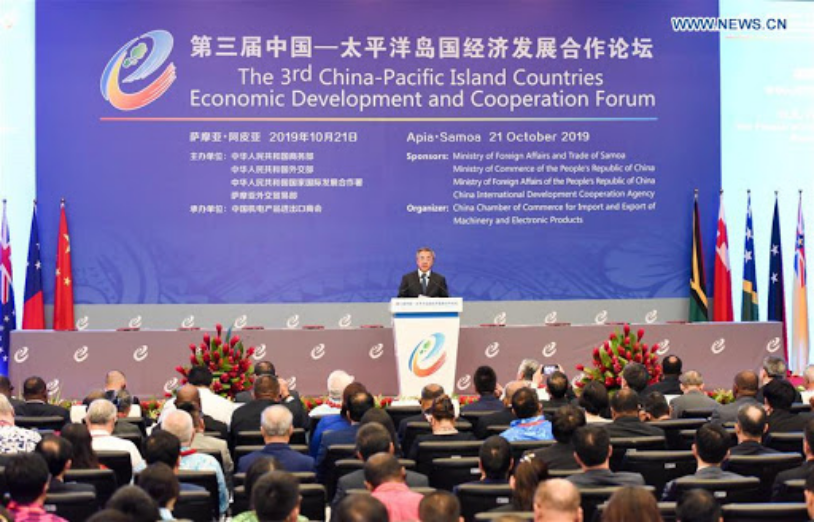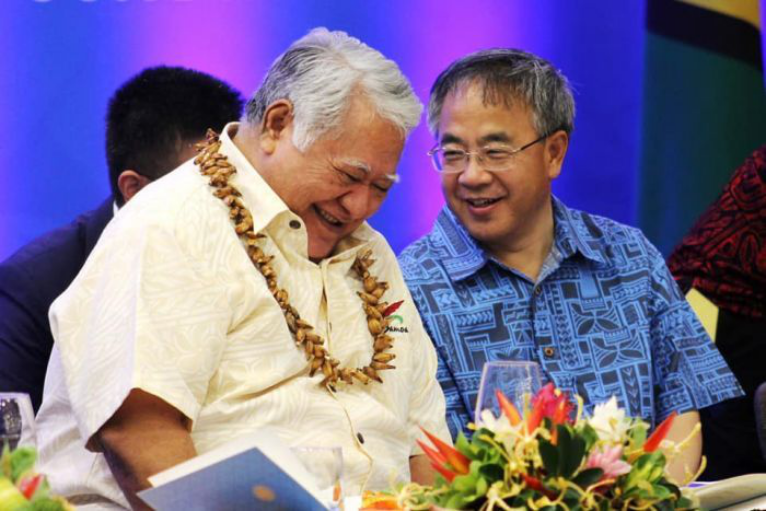 Since the first China-Pacific Island Countries Economic Development and Cooperation Forum in 2006, China has trained over 2,500 officials and technicians by 2014, and conducted technical cooperation in agriculture and fisheries with Fiji, Papua New Guinea, Samoa, Tonga and Micronesia.
In Papua New Guinea, China introduced the fungi, or Juncao technology in 1997, and later dry-land rice. One hectare of juncao can be used to feed 400 to 500 sheep, or to grow 100 tons of fresh mushrooms. The Jinshan 1 rice can yield up to 8.5 tons per hectare and reap record harvests.
For Tonga, from December 2018 to July 2020, about 100 athletes and coaches from nine sporting teams are to be trained in China. In addition, Chinese coaches in table tennis, badminton, swimming, weightlifting, tennis, volleyball and boxing will be sent to Tonga.
China also helped the island countries improve their infrastructure, education and medical services.
As a result, China's circle of friends in the Pacific region kept expanding. Most lately, the Solomon Islands established diplomatic ties with China, while Kiribati restored its diplomatic ties with China.
China and the island countries are highly complementary regarding their economies and trade, with huge potential for further cooperation. Pacific island countries are rich in marine, forestry, mineral and tourism resources, while China enjoys an edge with its huge consumer market, capital and technology.
As more island countries join the China-proposed Belt and Road Initiative, they are seeing a stronger presence of Chinese enterprises.
The Blue Economy advocated by the Pacific island countries is also in line with China's sustainable development initiative.
China, one of the first countries to sign the Paris Agreement on climate change, has pledged to halt the rise in carbon dioxide emissions by around 2030.
In his keynote speech on the forum, Samoan Prime Minister Tuilaepa Sailele Malielegaoi said cooperation with China is important from an economic and trade perspectives, and he also regards China as a vital partner for countries in the region in combating climate change, which is of critical significance for low-lying island countries that face the threat of rising sea levels.
According to China's Vice Premier Hu Chunhua, China will take eight measures to further strengthen its support to the Pacific island countries in the fields such as trade and tourism, investment, infrastructure, tackling climate change, agriculture, forestry and fishery, health, culture, education and sports.