China Outbound Investment goes up
BEIJING, June - China's non-financial outbound direct investment (ODI) is down 1.6 percent year on year in the first five months of 2020 but new investment is up, according to the Ministry of Commerce.
Chinese firms invested in 1,733 businesses in 157 countries and regions, and sent 39,000 personnel abroad to support their projects and operations, with amount to $42 billion USD in the first five months of this year.
Chinese companies increased investment of $6.53 billion in over 50 economies in countries along the Belt and Road during the first five months, with new investment up 16 percent year on year.
The country's ODI mainly went to sectors including leasing and business services, wholesale and retail as well as manufacturing, according to the ministry. The value of new contracted projects overseas reached 601.88 billion yuan, up 14.4 percent year on year.
In conclusion, Chinese firms signed 319 project deals with a contract value of more than $50 million in the first five months of 2020. The total of this projects amounted to $70 billion accounting for 82.3 percent of the total new contract signed by Chinese companies during this period. Those projects were mainly involved in industries, including transportation infrastructure development, telecommunication and petrochemical engineering.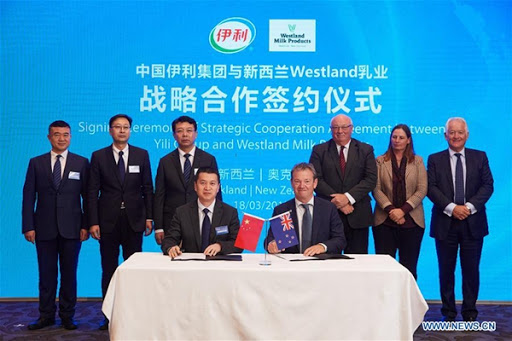 Photo: Representatives of China's Inner Mongolia Yili Industrial Group Company Limited and New Zealand's Westland Co-operative Dairy Company Limited attend an agreement signing ceremony in Auckland, New Zealand, March 18, 2019. Yili has offered to purchase 100 percent the shares of Westland's existing shareholders and take over operation of the company.
Source: Ministry of Commerce, PRC