Multinationals race to expand in China amid domestic recovery, global sluggishness
Multinationals spanning high-end manufacturing, retail and finance are racing to increase their stakes in the Chinese market as the domestic epidemic situation is seen stabilizing, priming the economy for a swift rebound and creating more opportunities for businesses aspiring for growth amid global sluggishness.
Increased optimism about the Chinese economy versus mounting uncertainty over the US economy in particular makes the case for growing commitments to the Chinese market, experts said, expecting high-end manufacturing to be a major growth arena for especially innovation-focused foreign investment.
BASF Shanshan Battery Materials Co, a BASF majority-owned firm in China, is expanding its battery materials capacity in Changsha, Central China's Hunan Province, and Shuizuishan, Northwest China's Ningxia Hui Autonomous Region, to meet the fast-growing local and global demand of the electric vehicle sector, the German chemical giant said in a statement sent to the Global Times on Wednesday.
The commissioning of the new lines will begin from the fourth quarter of the year, according to BASF.
Siemens Healthineers has also moved to localize its production in China, Yicai Global reported earlier in June. A laboratory diagnostics plant, which was completed in Shanghai at the end of last year, is set to become the German medical technology firm's first in vitro diagnostic reagent production base in the Asia-Pacific. Its R&D center project is also being advanced, the report said.
US fast casual restaurant chain Shake Shack plans to open new stores in Shanghai within the year and foray into cities, including Wuhan in Central China's Hubei Province and Suzhou in East China's Jiangsu Province, to open its first local outlets, the Xinhua News Agency reported on Monday, citing Shake Shack's operating director Ren Yan.
Fan Jiayu, president of Estee Lauder Companies in China, revealed that construction is to begin on the US cosmetics firm's new China logistics center, which will become a landmark logistics and warehousing center in the Asia-Pacific region, according to Xinhua.
Japanese fashion retail brand Uniqlo plans to set up 20 new outlets across China in June, media reports said, with two new stores scheduled to be opened in Shanghai on June 24.
Shu Jueting, a spokesperson for the Ministry of Commerce, told reporters on Thursday that China took the 12th spot on the Global Innovation Index in 2021, up from 34th place in 2012, thanks to a number of businesses, including European firms that have actively contributed to the uptrend.
Shu was commenting on a recent survey of EU businesses operating in China, which showed the majority benefit from local innovation and research and development (R&D), and they still regard China as an innovation and R&D base.
China will continue to unwaveringly expand high-level opening-up, enhance intellectual property protection and improve its business and innovation environment, Shu said.
The spokesperson noted that businesses from across the world, including the EU, are welcome to invest in China, beef up their research spending and establish R&D centers to better embrace the Chinese market and share its development dividends.
The Chinese economy swiftly emerged from the Omicron outbreaks in May, further raising optimism about the Chinese market, Huo Jianguo, vice chairman of the China Society for World Trade Organization Studies in Beijing, told the Global Times on Thursday.
Major economic indicators ranging from fixed-asset investment to industrial production were unveiled on Wednesday, pointing to a conspicuous recovery in economic activity.
With a raft of policy measures continuing to rev up growth, it is expected that the economy will remain on the recovery track in June, Huo said.
In light of this, multinationals would surely look to the Chinese market for growth, he continued, contrasting an upward spiral in China's case with mounting downward pressure on the US economy in the wake of sharper rate hikes.
The US Federal Reserve on Wednesday announced a 75 basis point increase in its benchmark Fed funds interest rate, the largest in nearly three decades.
With the drastic monetary tightening stoking concerns over a recession, the US market is becoming a place to avoid, unlike China, which remains a magnet for foreign investment, Huo remarked, reckoning high-end manufacturing to stand out among the most eagerly sought after spheres for foreign investors.
China's Ministry of Commerce said it is working with relevant departments to review and study public input for the draft new version of the catalogue for foreign investment in "encouraged" sectors, and is working on the early rollout of the policy, ministry spokesperson Shu said.
The draft, which has been open for public comment since May 10, continued to incentivize foreign businesses toward making commitments in manufacturing and services in the less-developed regions of the country.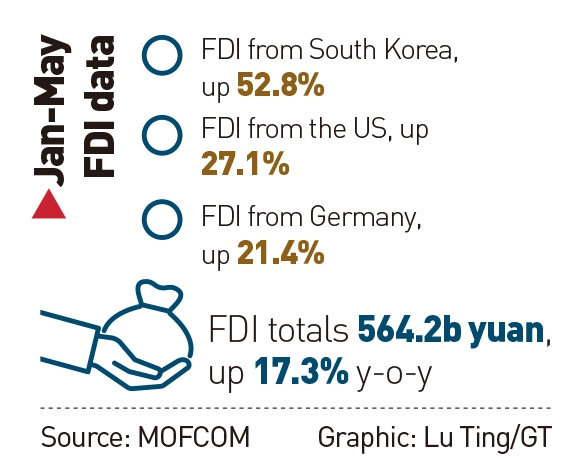 Source: Global times