Samoa Airports upgraded to boost tourism 萨摩亚机场升级
Constructed over one year by the Shanghai Construction Group, which included up to fifty Samoan personnel, the first phase unveils a passenger departure building complete with modern, state of the art technology for check-in, flight information displays, public address and information integration systems as well as more space for passengers, duty free shopping, restaurants and cafes. Phase one was completed at a cost of US$31.7 million through a concessional loan from the government of China.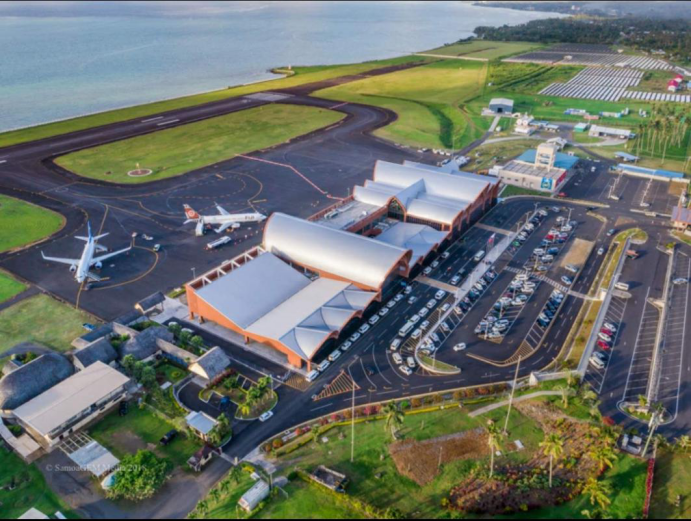 In 2019, Samoa Airport Authority work with CBISN (Welcome China) to launch its official Chinese website:
www.samoaairports.org
taking a pro-active step in connecting with Chinese aviation industry and China tourism sector.
May 10th of 2018 marks the Grand Opening of phase 2 of the New Faleolo International Airport which has been fully funded by the concessional loans from the Chinese government. The grand opening ceremony was graced by Hon. Tuilaepa, Prime Minister of the Independent State of Samoa. Also present were Ambassador of China, Deputy Prime Minister Fiame, Cabinet Ministers, Members of Parliament, Members of the diplomatic corp, representatives of Samoa Airport Authority, engineers and technicians from Shanghai Construction Group, diplomats from Chinese Embassy, media representatives and people from all walks of life.
The upgrade is now expected to enable the airport to cater for 600,000 passengers a year. The Government says the upgrade will boost tourism and economic development. The project cost almost $US60-million and was done by China's Shanghai Construction Group.